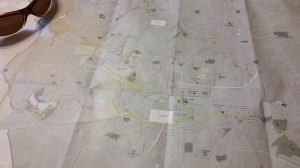 It was a whim of an idea on a late Friday night after a long week—to bike around Raleigh piecing together the greenways near the beltline. Merri Beth, Coco, and I decided to give it a try on Saturday, July 12.
We started on the Walnut Creek Greenway heading east after parking at the trail head on Lake Wheeler Road near the Farmer's Market. Once we got to Worthdale Park, we took to the streets to connect to the Crabtree Creek greenway.
The streets were mostly residential in nature, so they weren't too busy. Crossing Poole Road was a little dicey as the cars were moving fast and the road is curvy. We found the trail head to the Crabtree Creek greenway and started exploring. We were amazed at the wildlife, flowing creek, and gorgeous views. We even saw a few deer in the meadows.
We continued along Crabtree Creek for miles, crossing over the creek several times and enjoying the views. As we approached Crabtree Mall, we checked out Lassiter Falls and took the roads because of some parts of the greenway turned into single-file trail. The roads here were residential and we felt very safe biking on the streets. Then we headed north to Shelley Lake.
This is where we pushed ourselves and got in some extra distance that we would pay for later on. After a lap around Shelley Lake, we took a break near the fishing pier. It was starting to get hot out and we knew we had several miles to go before the ride around Raleigh was over. We cooled off with the breeze coming off the lake and refilled our water bottles.
Then it was time to tackle West Raleigh, where all the hills live. We connected from Crabtree Creek greenway to House Creek greenway and passed Glen Eden, Lake Boone, and Wade Avenue. There is one nasty hill as you approach Wade Avenue.
It was smooth sailing after that as we biked on the Reedy Creek greenway near Meredith College. Then we picked-up the Rocky Branch greenway through NC State, crossed Western Boulevard, and scooted down Centennial Parkway back to the Jeep. The last 10 miles were hilly and intense but we pushed through and made it.
It was an amazing ride. All the way around Raleigh, just inside the beltline. We didn't have to take too many roads either, we primarily stuck to the greenways. Poole Road was kind of busy, but everything else seemed pretty smooth. I would encourage everyone to give this a try one day when you have a few hours and your feeling adventurous. Hit up the comments for any questions. Check out the route details on MapMyRide.