On the evening of Friday, March 7, 2014, I started preparing for a winter surf session on the Outer Banks. I gathered my wetsuit and various wetsuit parts, including booties, gloves, hood, and other layers. I packed all my gear in my surf tote and got my surfboard ready. I'd been watching the surf forecast all week and it looked like Saturday afternoon would be firing.
One of my favorite surf forecating tools is Magic Seaweed. Looking at the screenshot (above) from Saturday, you can see a solid swell and the winds changing from north to north-west, to west, and finally south west. The only downside to all this, the water temperatures were in the high 30's and low 40's. Ca-burr!
I hung out with the family on Friday night in Raleigh and wasn't in a rush to get to the beach because the surf was pretty much "victory at sea" conditions for the last few days. I got up Saturday morning, packed a few remaining items, had breakfast, and made a smoothie for the road. Merri Beth and the kids were planning on going to the NC State baseball game with her dad, Jim. Because yesterdays game was rained out, Saturdays game(s) would be a double header against Notre Dame.
I got on the road around 9:30 am and was quickly familiar with 64 East and the beautiful North Carolina countryside. The sun was shining bright and warmed the chilly morning air. It took me about three hours to get to Kill Devil Hills. And my first stop…was a surf check. The waves were still a little out of control. (Sometimes we call it morning sickness, but it was after lunch already.)
I called my buddy Brad Price to let him know that I was at the beach and we decided to check back in after a few hours to see how the surf was cleaning up. I decided to go for a run since I had some pent up energy from the car ride.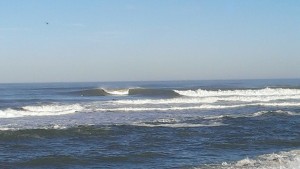 Around 4:00 pm, Brad and I checked the surf in Kitty Hawk. It was big, cold, and grinding. The surf had finally cleaned up enough where people were getting in the water. The waves were 6-8 foot with clean faces and breaking way outside. The water temp was 40° which meant we wearing full suits, booties, gloves, and hoods.
As I got into the water, I could feel every tiny hole and every seam that didn't have a good seal, fill with cold water. I made it at least 20 minute before I started feeling the coldness. As usual, my hands went first. And that was right after I had to duck dive a huge set that had just come in. The icy cold water hitting my face in the dark, brown water going under the waves caused a delayed ice cream headache. I shook it off, got re-oriented, and kept paddling.
On the bright side of things, I did score a few good waves. I remember the first wave I tried to catch, I didn't stand up because I couldn't get my leg around on my board in time. Oh the joys of being bundled in a wetsuit (and not surfing for a while). The last wave I caught took me all the way in. Which was probably a good thing because my arms were tired and I was cold. I may have lasted 45 minutes. I changed in the parking lot, then watched the other surfers in the water catch a few waves.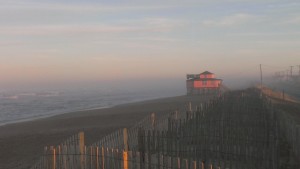 The sun was finally hitting the western horizon, and it started to get chilly really fast. On my way home, I caught the last bit of the sunset. It's always great to enjoy the sunset on the Outer Banks.
Life after my surf session included a long, hot shower. Mom and I had dinner at Bad Bean, where I ate too many tortilla chips—but the guacamole was delicious. Then I helped mom install a new over-the-stove microwave because her other one died.
I watched the first half of the UNC Chapel Hill at Duke men's basketball game at the beach house. Then I went to Brad and Deborah's to watch the second half of the game and hang out for the rest of the night.
Sunday morning leftovers
With daylight savings and moving the clocks ahead an hour, it was hard to wake up Sunday morning. It didn't help that I stayed up until 1:00 am (2:00 am with the time change). I finally woke up at 9:30 am and was out the door by 10:00 am ready to hit the surf. I checked a few spots then called Brad with my eyeball report. Literally, while I was checking one spot and going to another, the wind switched from the west back to the north. Not good for surface conditions.
After driving around for over an hour and hesitant to get in the water, Brad and I finally synced up and decided to surf at Avalon pier. We surfed on the north side of the pier for more than 90 minutes. Brad probably surfed for two hours. The waves were fun even and consistent. The surf was solid waist to chest high and conditions were clean, despite the north wind.
I caught a bunch of waves on this session and rode my 7'10" fun board instead of my 6'2″ shortboard. The fun board got me into waves quicker and kept me floating better with all this gear on. There were only 3-4 other guys out, so the line-up wasn't that crowded. I think we picked a good, fun spot considering the conditions. But to be honest, I'm just glad there was some surf leftover today.
After getting out of the water, I watched Brad catch a few more waves, then headed to the car. I put my boards away and decided to drive back to the beach house in my wetsuit and undress there instead of dealing with the sandy lot at Avalon beach access.
I grabbed some lunch and packed up my stuff. I hung out with my mom for a bit before hitting the road back to Raleigh. Satisfied with my surf trip, I had a big smile on my face as Dare County was in the rear view mirror.