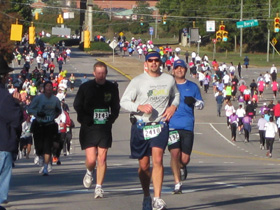 This year will be my fifth time running in the City of Oaks half-marathon. My finish times have ranged from my first ever half-marathon at 1 hour and 54 minutes to last years personal best of 1 hour and 46 minutes.
I'm excited about the new course this year that takes us through Southwest Raleigh and starts and finishes at the NC State Memorial Bell Tower. The course will take us through downtown Raleigh, up Glenwood South, swing by Cameron Village, through University Park, turn around at the Fairgrounds, and cross the finish line at the Bell Tower on Hillsborough Street. The full marathon will take runners out to Umstead Park past the half marathon turn around point on Blue Ridge.
I've been training pretty hard for this race and next weekends Outer Banks half marathon (and 8k). I logged 106 miles in October. I had some great long runs on Raleigh's greenways and on the American Tobacco Trail during my training. I've seen my running time improve this Fall with the cooler weather and after dropping a few pounds.
Goals. Of course, my first goal is to always finish the race. Regardless of time, crossing the finish line is an amazing feeling. All that hard work, weeks of training, is paid off when you finish. As far as time goals are concerned, I'm really looking to crack that 1:45 mark. It eluded me earlier this year at Tobacco Road by 7 seconds. That means I need to average less than 8 minute miles. I'm confident I can do this.
The weather looks great for this Sunday's race and I've already started carbing up. I'm excited! If you're in the Raleigh area, come on out and cheer on the runners on this Sunday for the City of Oaks marathon.
Remembering My Half-marathons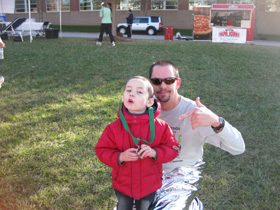 2007 City of Oaks – 1:54
2008 Raleigh Rocks – 1:55
2008 City of Oaks – 1:50
2009 Raleigh Rocks – 1:55
2009 City of Oaks – 1:50
2010 Tobacco Road – 1:53
2010 Flying Pirate – 1:49
2010 City of Oaks – 1:46
2010 Outer Bank marathon – 3:55
2011 Tobacco Road – 1:45:07
2011 Flying Pirate – 1:45:56