March 2006
Web Updates | Announcements | Newsletter Recipes | Headlines
Welcome to the March 2006 Edition of hibbets.net news. Well, this is it, the last month before BeanSprout arrives. We are very excited and we are so happy to have support from many friends and family who are excited for us and think that we'll be great parents. So we've taken the advice of many folks. As you read this month, you'll see that we've hit up a little bit of night life. April & George's, St. Patty's Day, Carolina Brewing Company, and Playmakers. Other's said go to the movies, but we've got a good stock of DVD's so we should be good there. I also got a really good (but cold) surf session in at the end of the month and Red Hat surprised us with a great baby shower too! Look for an announcement early April for our new arrival. Cheers.
Web Updates
Announcements
The Announcements section is a chance for our subscribers to make announcements about special events occurring in their lives.
Announcements:
No Announcements

- for this newsletter.
Anniversaries:
April 11

- Mr. and Mrs. Neil & April Bowman, together for 8 years

April 29

- Mr. and Mrs. Margie & Rich Comerford, together for 0 years
Birthdays:
April 3

- Alexander Hibbets

April 13

- Ryan Arthurton

April 15

- Richie Miller

April 16

- Beth Blackwell

April 16

- Lynae Elizabeth Bowman

April 24

- Spenser Miller

April 26

- April Bowman

April 28

- Courtney McGuire
Newsletter Recipes
Sizzling Coconut Shrimp Cakes





1 cup sweetened flaked coconut, lightly toasted
8 ounces peeled, deveined, cooked shrimp, finely chopped
1 tablespoon peeled and finely chopped fresh gingerroot
¼ cup thinly sliced green onions with tops
¼ cup finely diced red bell pepper
¼ cup grated carrot
1 lemon
¼ cup mayonnaise
1 egg
2 teaspoons rice vinegar
2 garlic cloved, pressed
1/3 cup unseasoned dry bread crumbs
¼ teaspoon ground cayenne pepper

Preheat oven to 375 degrees. Place coconut on microwave safe plate, microwave on HIGH 3-4 minutes or until lightly toasted, stirring after each 20-second interval. Set aside; cool completely.

Combine shrimp, gingerroot, green onions, bell pepper, carrot, lemon juice, mayonnaise, egg, rice vinegar, and pressed garlic. Mix well. Combine bread crumbs and cayenne pepper. Add to shrimp mixture; mix well.

Sprinkle half of the coconut evenly onto a cutting board forming an 8 inch square. Using a teaspoon, form 16 equal mounds of shrimp cake mixture and place onto coconut layer. Sprinkle shrimp cakes with remaining coconut. Flatten cakes slightly and carefully place on a cookie sheet.

Bake 18-20 minutes or until coconut is golden brown; remove from oven. Remove shrimp cakes to serving platter and serve with assortment of sauces, if desired.

** Printer Friendly Recipe **
Headlines
Wednesday, March 1, 2006 - Wine & Fun at April & George
Merri Beth and I attended a presentation tonight at the Urban Design Center on Fayetteville Street in Downtown Raleigh. We learned about some of the exciting new projects slated for Downtown. The catalysts for the upcoming build-up and construction is the renovations being completed to re-open Fayetteville Street Mall to traffic. There are currently about 1,200 residential units Downtown. By the year 2010, City Planners are estimating 10,000 residential units. We saw an array of corporate complexes and residential structures for various parts of Downtown. We left the presentation with genuine excitement about the growth in our city.
After the presentation, Elizabeth Byrd joined MB and myself for some light appetizers and wine at April & George on Glenwood South. I selected a delightful bottle of Zinfandel that complimented our food choices, hummus, mushroom pate, and tuna tartar. It was a slow Wednesday evening at April & George's, which set a perfect atmosphere for good conversation. We had a great time and we were glad that Elizabeth was able to join us.
Wednesday, March 8, 2006 - Eye Check-up
I went to the eye doctor today. Had to use up the rest of our flex spending for the year. I'd been wearing my glasses all day at work and didn't give myself enough time for my eyes to adjust and couldn't read some of the lines on the eye chart. The Doctor said that my eyes have actually stayed about the same, astigmatism. The doctor also wanted to dilate my eyes, it's the first time I've had it done. Wow, it was weird. I was sending a text message when all of a sudden, everything went blurry. I decided to get another pair of glasses to add to my collection (and to use some of our flex spending). So all-in-all, it wasn't a bad trip to the eye doctor.
Saturday, March 11, 2006 - Pups Find Good Homes
Dot's third litter is ready to go! The pups have been weened, wormed and have had two sets of shots. We put an ad in the paper and the puppies started finding their way to good homes! Check out the puppies tearing up the yard: Third Litter at 7 Weeks.
Monday, March 13, 2006 - March SWCAC
Tonight, Merri Beth and I went to the monthly SouthWest Citizen's Advisory Council (SWCAC) meeting. On tonight's agenda, we heard from Eric Lamb, Manager of Transportation Services Division, City of Raleigh on sidewalks and multi-purpose paths. After Eric presented, Allison Hapgood from the Raleigh Housing Authority told us all about Section 8 Housing. I then spoke a little bit about the PROP (Probationary Rental Occupancy Permit) and the upcoming recommendations that are being presented to the Law & Public Safety committee (City Council sub-committee). After the SWCAC meeting, MB and I rushed home to watch 24, our new favorite program.
Wednesday, March 15, 2006 - Raleigh Planning
Tonight I attended an RCAC (Raleigh Citizens Advisory Council) meeting with a presentation from Mitch Silver, City of Raleigh Planning Director. The presentation was focused on the proposed changes to the cities rezoning process. We reviewed the Phase I changes that have already taken effect. Then we covered the Phase II (May 2006) and Phase III changed (July 2006 +). I found the meeting very informative and got a better understanding of the cities rezoning process.
Thursday, March 16, 2006 - CPTED at Biltmore Hills
I attended a session tonight at the Biltmore Hills Center in SouthEast Raleigh called: Addressing Neighborhood Problems using Crime Prevention Through Environmental Design (CPTED). I was already familiar with CPTED concepts from a conference I attended last May. I was interested to see if there was anything new that I could learn from this session. Our presenter was M. Von Nkosi from MXD Collaborative. We reviewed several case studies where CPTED was used to improve neighborhoods. We talked about how the design, use, and landscape of a structure can impact crime prevention.
Friday, March 17, 2006 - St. Patty's at Huffs
Top of the morning to you! Put on something green, grab a Guiness or your favorite Irish beer and get ready to get bolloxed up. Red Hat happy hour was at David Huff's this week. There was food and a keg. We brought some deviled eggs and some fresh guacamole (it's green!). The keg was flowing, March madness was on the TV (NC State and UNC both won tonight to advance to the second round). There were so many people there, I can't even begin to name everyone. But thanks to Matt Galgoci, we've got pictures of the evening. Bottoms up!
Saturday, March 18, 2006 - March District D Neighborhood Alliance
I got up early this morning for our monthly District D Neighborhood Alliance meeting. I had been working on our neighborhoods problem collection and condensing the issues. We had Mayor Meeker attend our meeting and we reviewed the issues that we had budget concerns for and needed leadership on. The spreadsheet was about a page and a-half and I felt that we had a very productive session. It was good to see Mayor Meeker attend our neighborhood meeting (considering that he actually live in Boylan Heights, which is in District D). Our group is gaining momentum and leadership. I'm very excited about the potential our neighborhood alliance has and the things we can achieve for our collective neighborhoods.
Friday, March 24, 2006 - Happy 50th Mom
Today is my Mom's 50th birthday. On this day in history: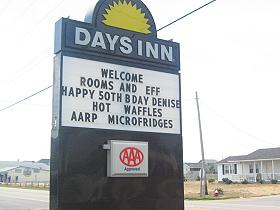 On March 24, 1874, Harry Houdini, the Hungarian-born magician and escape artist, was born.
On March 24, 1976, Peyton Manning, Indianapolis Colts quarterback was born.
On March 24, 1888, Harper's Weekly featured a cartoon about the Great Blizzard of '88.
On March 24, 1989, the nation's worst oil spill occurred as the supertanker Exxon Valdez ran aground on a reef in Alaska's Prince William Sound and began leaking 11 million gallons of crude.
Source: http://www.nytimes.com/learning/general/onthisday/20050324.html
I heard that my sister Katie visited mom at the beach and they all went out to dinner. We are limited with our travels because of the pregnancy. We ended up spending the evening watching some NCAA Basketball on TV and I continued to read "The Ten Faces of Innovation" by Tom Kelley.
Saturday, March 25, 2006 - Carolina Brewing Company Tour
We took a short trip to Holly Springs this afternoon to meet Rob and Chris Charest at the Carolina Brewing Company. At 1:00 PM on Saturdays, they offer a free tour of their facilities - and of course, samples! We were able to get a few pints before the tour started, I was sampling the Spring Bock. Oh and just for clarity, Merri Beth was designated driver, but she did get a lot of strange looks. To our surprise, Rob and Andrea Axtel were at the tour as well, Andrea's parents were in town and they came out for the tour. This was my first time at CBC and everything was a blast. I would guess that there were probably about 200 + folks in attendance.
The tour got started, one of the owners, Joe, started off telling us a little bit about the company. We then covered the ingredients (good old unfiltered Holly Springs water, barley, hops, and yeast) and the beer process. After the formalities of the tour concluded, we sampled more beer. I tried the Stout and the Pale Ale in addition to the Spring Bock.
After the tour and tasting, we took Rob back to his parents house in Apex (Chris had to leave early). We chatted with Rob's parents, Chris, and Carrie before we headed home. We finished our night with a few movies, "Lords of Dogtown" and "Lord of War."
Sunday, March 26, 2006 - A Tarvin Farewell
We had a fabulous lazy Sunday on the agenda. We had one puppy left to sell and still had an ad running in the N&O. We had one person, Suzie, stop by and look at the last pup. We've nicknamed her DJ (for Dot Junior) for the time being and although Suzie liked the last puppy, she was looking for her parents, and it didn't pan out. So we actually had two puppies in the playpen. The pick of the litter, a black & white female was going to a farm in Georgia. We nicknamed her Tarvin. We had made arrangements to meet Michael in Greensboro to deliver the puppy.
We took a quick trip to Greensboro, a little over an hour from Raleigh. We met Michael and said our farewell to Tarvin. She's going to be a great cattle herding Border Collie. She's well marked, smart, and has the natural instinct needed to be on a farm. Before we made our way back to Raleigh, we stopped and had some dinner at TGI Fridays. I had a really good Shanghai Chicken Salad, that had a tasty lime & cilantro dressing. We made our way back home and capped off our evening with some Ron White performing on Comedy Central.
Tuesday, March 28, 2006 - Surf and Shower
I drove to Kill Devil Hills last night and got in around 10:00 PM. I settled in and stopped by Brad and Deborah's for a little while to make plans for the morning. The surf was supposed to be head high plus with clean conditions and light winds. I was up at 6:30 AM checking the surf cam in Nags Head. It looked awesome!
I went across the By-Pass to First Street. The winds were coming light out of the West/SouthWest and grooming the 5-7 foot NorthEast ground swell. First Street had several peaks firing on all cylinders. With a toasty water temp of 47°F, what a way to start off this great Spring morning.
I got up with Brad and Gregg (Gregg drove down from Norfolk last night) and we hit the surf. We checked a few different spots, Helga, First, Prospect, Eighth, and Barnes. We decided to surf Barnes Street because it was breaking closer to shore and there weren't too many people out in the water. Compared to the 15 or so people out at First Street.
We surfed for about 2 hours, battling the cold water searching for some good waves. I dropped in on a couple of decent sized waves, but being in a full suit, with booties, gloves, and a hood really slow things down. I felt really restricted, the hood was giving me breathing trouble (I might need a new one that is a size bigger), and I had a hole in my glove that was letting in cold water. We got out of the water as the tide continued to drop and peeled out of our wetsuits in the parking lot. I headed back to the house and took a hot shower before hitting the road back to Raleigh.
Back in Raleigh, work was throwing a baby shower for Merri Beth and me. She arrived right at 3:30 PM and Lesley and Michelle had decorated a surf and beach scene for us. How ironic that I just scored some good waves just a few hours ago. We had a ton of folks come and join us in the big meeting hall area on the first floor. We had punch and light munchies and opened the gifts that everyone chipped in for. There was also beach theme music playing in the background, compliments of (DJ) Michelle Thompson. All-in-all, MB and I had a blast and we were very appreciative of everyone attending and pitching in for gifts. We finally got a Diaper Genie!
I do not want to forget Summer, who I'm sure had a hand in planning the shower and had a doctor's appointment conflict, but showed up at the end of the shower. She is pregnant as well and enjoys talking with MB about pregnancy. Check out the pictures of Summer, Michelle, and Merri Beth doing the tummy rubs!
Friday, March 31, 2006 - MB's Last Hour, Playmakers
We called it Merri Beth's last hour. We know this is nonsense, but it was a good way to get people to Happy Hour. We picked Playmakers (PMs) to have a change of venue from the norm. The Carolina Hurricanes were playing the Florida Panthers, ironically, at the RBC Center, but we watched them win the Divisional Championship on the big screens at PMs. We had a good gang of folks that made the Happy Hour very lively. The karaoke kicked in after the hockey game wrapped up. Michelle and I were signed up fourth on the list, Vanilla Ice was on tap. We rocked the crowd with our version of Ice Ice Baby, internationally proven. The highlight of the night, Michelle busting the second verse flawlessly and I threw in a little "To the window...to the walls" that got the crowd all into it! The rest of the night dwindled after that, the karaoke singers were picking some really bad songs (just like American Idol this past week). We tabbed out and gave Christian and Liz a ride home, got to see Blue and Thor as well.
hibbets.net news is written by Jason Hibbets and is © hibbets.net, All Rights Reserved.
hibbets.net >> news >> March 2006
<< February | March 2006 | April >>